Frequently asked questions
How do I become a member of Reigate and Redhill u3a?
---
​Membership costs £14.00 a year per person or £25.00 for a couple and runs from April to March. There are reduced fees if you are a full member of another u3a.
If you are interested in joining us, please complete the online application form here or download, complete and return an Application Form
or contact us using the membership enquiry form on the Home page or by email to membership@rru3a.org.uk or tel: 01737 929001
​
---
What is Reigate and Redhill u3a?
---
Founded in 1982, u3a* is a UK-wide collection of locally run interest groups that provide a wide range of opportunities to come together to learn for fun. People enjoy exploring new ideas, skills and activities together.
There are 1,039 u3as with over 430,000 members and membership is open to everyone who is no longer in full-time work.
*originally called the University of the Third Age, now u3a.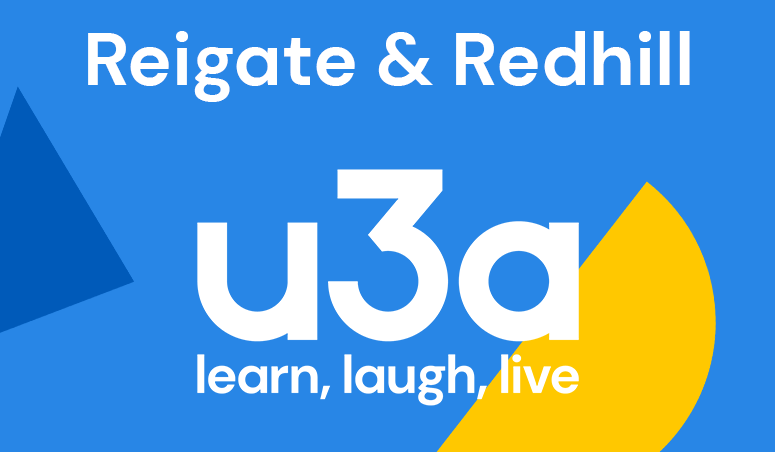 Reigate & Redhill u3a was formed in 1986 and has over 800 members and over 110 Groups that meet, usually in members' homes, to share a variety of educational, creative and leisure activities. They are small, friendly and undemanding groups made up of about eight to ten members who meet simply to enjoy being with others who have similar interests and to learn more about their chosen subjects. In normal times, we also hold monthly meetings, coffee mornings and evening entertainments, we organise outings and holidays. Our members are also able to attend Study Days and Summer Schools organised by the regional and national u3a. We look forward to welcoming you. Pat Cockett - Chair
chair@rru3a.org.uk
---
What happens at monthly meetings?
---
Monthly Meetings are normally held on the first Friday of the month at 2 p.m. at Reigate Park Church, Park Lane East, Reigate, RH2 8BD.
We have a speaker and besides interesting talks on a wide variety of topics the meetings provide opportunities to meet and chat to other members.
We always have tea and biscuits after the talks and it is an ideal chance to socialise.
Visitors are welcome at the Friday meetings.
During Covid-19 restrictions meetings are taking place virtually. For details of the speaker programme, please visit the What's On page.
---
How do we communicate with members?
---
A monthly Bulletin is sent out by email. Current versions can be accessed on the Publications page. Our Magazine 'Here & Now' is published twice a year. The Third Age Trust send all members a national magazine - Third Age Matters - 5 times a year.
---
What are RRu3a evenings?
---
U3A Evenings take place from April to September at Reigate Manor Hotel. A programme of events based on the interests, research and talents of u3a members is drawn up by an organising team. The reports of last year's programme, indicating the varied range, can be found on the Publications page in the Recent Reports and Archives sections. A Christmas show is also produced. If you are interested in contributing to these events, please contact Mike Cockett on chair@rru3a.org.uk For details of the Evenings programme, please visit the What's On page.
---
Holidays
---
Two holidays are organised each year, one in the UK in the Autumn and one in early summer elsewhere in Europe. To see details of the Holidays programme, please visit the What's On page.
---
Outings
---
Around six outings a year are organised to London and other areas in the South East. For details of the outings programme, please visit the What's On page. Pick-up times for outings unless otherwise shown:
Redhill Old Post Office: 9.00am
Reigate Police Station: 9.05am
Red Cross: 9.10am
Reminder: Outings must be paid for at least two months in advance, otherwise the place is not guaranteed.
---
What happens at Coffee Mornings?
---
Everyone is welcome to attend the coffee mornings held once a month from 10.15am to 11.30am on different days of the week to avoid clashes with group meetings. There is usually a theme for each meeting and there is Help with Computing at each meeting. So, bring your computing device with you if you need some advice. Entry is free, refreshments can be purchased and there is plenty of parking space. Café area of St Joseph's Community Centre, Ladbroke Road, Redhill, RH1 1LF During Covid-19 restrictions Meet & Chat virtual sessions take place each month. For details of the programme, please visit the What's On page.
---
What are Study Days?
---
Study Days are organised by the u3a Surrey Network are generally held in the concert hall of the Yehudi Menuhin School, Stoke d'Abernon. The programme for each Study Day normally starts at 9.30 a.m. with registration, and runs from 10 a.m. to 4 p.m. with breaks for coffee, lunch and tea. The cost including coffee/tea and biscuits will be £10.00. A visitor who is not a member of the U3A will be charged £12.00. Attendees are advised to bring a packed lunch. Advance booking is necessary. Forms can be downloaded from the Surrey U3A Network. From September 2021 it will be possible to connect remotely to the session at a cost of £5.
---
What are Groups?
---
Groups are the life blood of the u3a. All our Groups are interactive and self organised. Members share their knowledge and skills and learn from each other in a friendly, undemanding environment. Some members have experience, knowledge and skills that they would like to continue practising and pass on to others. Many members are happy to take advantage of what can be learnt from them. Most groups meet in members' houses and are therefore limited in size. You need to be a member of Reigate and Redhill u3a before you can join a group. To find out more about groups, please visit the Groups page.
---
How is Reigate and Redhill u3a managed?
---
Reigate and Redhill u3a is run by members who all give their time on a voluntary basis. A committee of at least 12 people are elected at an AGM and, as Trustees, manage and oversee all the activities. Photographs of the some of our committee members you are most likely to meet face to face can be found on the Contact Us page. The current committee membership is as follows: Angela Austin, Deb Chapman, Lloyd Chapman, Pat Cockett, John Cousins, Gillian Haimes, Martin Livesey, Hilary Loney, Sheena McKenzie, Lynne Scott Douglas and Ann Weaver. There over 1000 u3as in the UK under the umbrella organisation of the Third Age Trust - to find out more visit the u3a website by clicking here.
---
Can I see examples of creative outcomes of u3a activities?
---
A regularly changing display of photographs from the photographic group can be seen on the Photos page. On the Videos page there is a live feed to our YouTube channel containing videos of painting and embroidery art, monologues, mini plays, documentaries and music. On a separate website - Reigate and Redhill U3A Writers, there is a sample of writing from our writing groups.
---
---